Our world-class facilities include 30 championship level
courts, a stadium facility, and a resort-style dorm.
Weeks 1 and 2 Campers will be housed @ Callaway House 301 George Bush Dr. College Station, TX 77840
Week 3 Campers will be housed @ The Cambridge at College Station 501 University Oaks Blvd. College Station, Texas 77840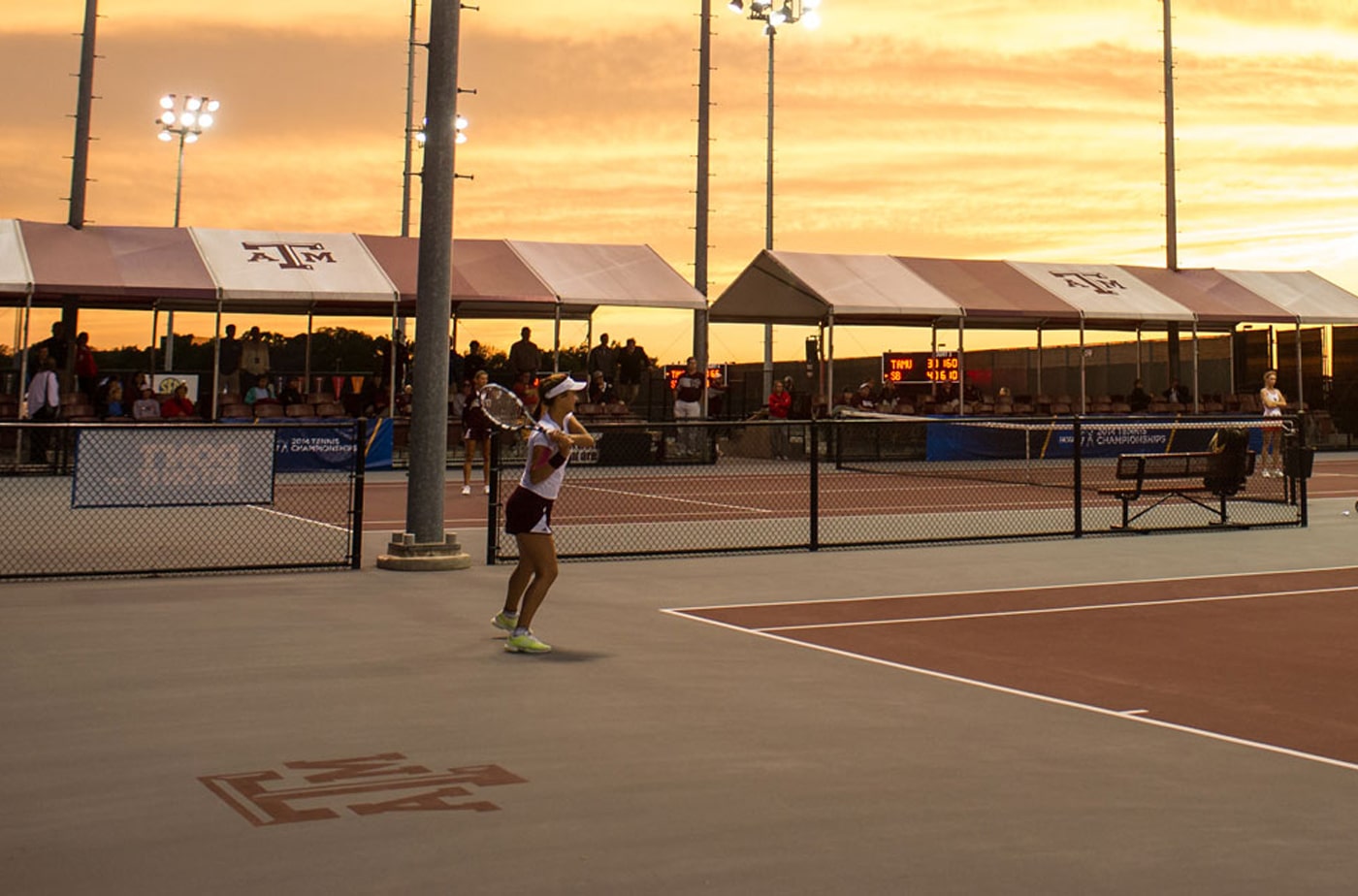 world-class-facilities-aggie-tennis-gamp
12 court state of the art Stadium facility
18 additional championship level courts adjoining the stadium
Site of some of the top tournaments in Texas, including the UIL State High School Championships
cambridge aggie tennis camp pool
cambridge aggie tennis camp
Players stay at resort-style dorm featuring:
Four, six, or eight campers to bedroom / 2 bath room
24-hour front desk & supervision
Game room and pool at Callaway House
Game room, theater & two pools at Cambridge (Session 3)
Weeks 1 and 2 will stay at Callaway House:
About Our Facilities
Texas A&M's men's and women's tennis teams call the beautiful George P. Mitchell '40 Tennis Center home.
Located on the University's west campus and built for an estimated $4.2 million, the official ribbon cutting ceremony was held on October 23, 1998.
Aggieland has served as the host for many intercollegiate tennis tournaments, from USTA events to the NCAA Men's Tennis Championships in 2002, 2005 and 2009.
Chosen as the USTA Facility of the Year in 1999, the Mitchell Tennis Center has twelve lighted courts with seating for nearly 3,000 spectators. The candle power of the lights averages 150 feet inside the fences, which is greater than that of USTA Championship status.
"We are trying to make tennis progressive by scheduling night matches when people can come to watch," A&M men's head coach Steve Denton said. "We have some of the best teams in the country schedule to play us at home each year. We are also one of only two or three schools in the nation to sell season tickets."
There are many amenities in the facility including locker rooms for both the men's and the women's teams, a full size training room, a player's lounge, head coaches offices, as well as offices for the assistant coaches.
One of the special amenities at the center is the Phil and Dee Springer Family Stadium Club, an area of special seating located courtside. The grandstand for the area was made possible through a generous donation from Phil and Dee Springer.
Members have season courtside seats and enjoy a special hospitality room and the chance to interact with the players.
The largest crowd in A&M Tennis Center history occurred on May 18, 2002, as the Aggie men battled No. 1 Georgia in the NCAA Sweet 16 before 2,339 fans.